Home >> Events
CASISD's Pioneering Effort to a Unified Paradigm for Think Tank Research
The Institutes of Science and Development, Chinese Academy of Sciences (CASISD), one of China's top S&T think tanks, has raised a new theory and methodology to provide practical guidance to help think tanks conduct problem-based, fact-based and scientific research.
The new theory, called Double Helix Structure, consists of two core models twisting with each other like a double helix chain of DNA. One model examines the integrated method to the orientation, process, and methodology of think tank research, called Data-Information-Intelligence-Solution (DIIS), and eventually produces a solution. The other is MIPS, short for Mechanism analysis-Impact analysis-Policy analysis-Solution, which investigates and assesses the possible impact of proposed policy and solution as feedback to DIIS to help optimize the method.
Each model of the theory is interrelated and based on the problem of think tank research, acting as toolboxes that allow researchers to choose the right method for their study, contributing to an effective and comprehensive process with a clear focus on solving problems.
Think tanks play an increasingly vital role in aiding government decision-making, challenged by unprecedented complexity during economic and social development with growing uncertainty and instability in the post-pandemic era, said Prof. PAN Jiaofeng, CASISD President and the theory's creator, in his opening remarks to the Think Tank Theory and DIIS Conference held for the first time in Beijing on Nov. 1-2.
Since 2013, China has significantly ramped up its support for building high-level think tanks, hoping to fulfill the nation's growing need of insightful and high-quality research to aid decision-making and evaluation. In December 2015, the national high-end think tank construction pilot project was officially launched, with 25 institutions selected as the first batch, and CASISD is one of them.
"As an emerging field of science, think tank research is an intersection of natural science, social science and management science, and requires more efforts on the integrated study of policy-making, strategy and theory," said GAO Hongjun, Vice President of Chinese Academy of Sciences.
"Although as a latecomer compared to developed Western countries, so far, China has more than 800 think tanks," said PAN. "However, there is not yet a unified paradigm for the think tank research that is commonly accepted and adhere to, and it is still a pending question to fully achieve such a paradigm for domestic and international think tank research."
To tackle this issue, Pan and his team spent last three years studying and combining basic theories and principles of think tank research with practical cases, which is deemed as a systematic and pioneering effort, aiming to explore and establish a paradigm for think tank research.
Under the theoretical framework, researchers can easily break the whole research process into three steps: conceptualizing the actual problem into several sub-issues, conducting integrated research with various types of knowledge, analyzing each component to form the final solution.
Detailed description of the new theory can be found in the paper titled Double Helix Structure of Think Tank Research co-authored by PAN Jiaofeng and his research team and was published in Bulletin of the Chinese Academy of Sciences on July 1, 2020. (DOI:10.16418/j.issn.1000-3045.20200706002).
Think Tank Theory and DIIS Conference is created and co-hosted by the Institutes of Science and Development, Chinese Academy of Sciences (CASISD) and Think Tank Research Center, Shanghai Academy of Social Sciences. This conference will be held annually in the future as a platform for researchers with different background to share the latest research achievements and applications.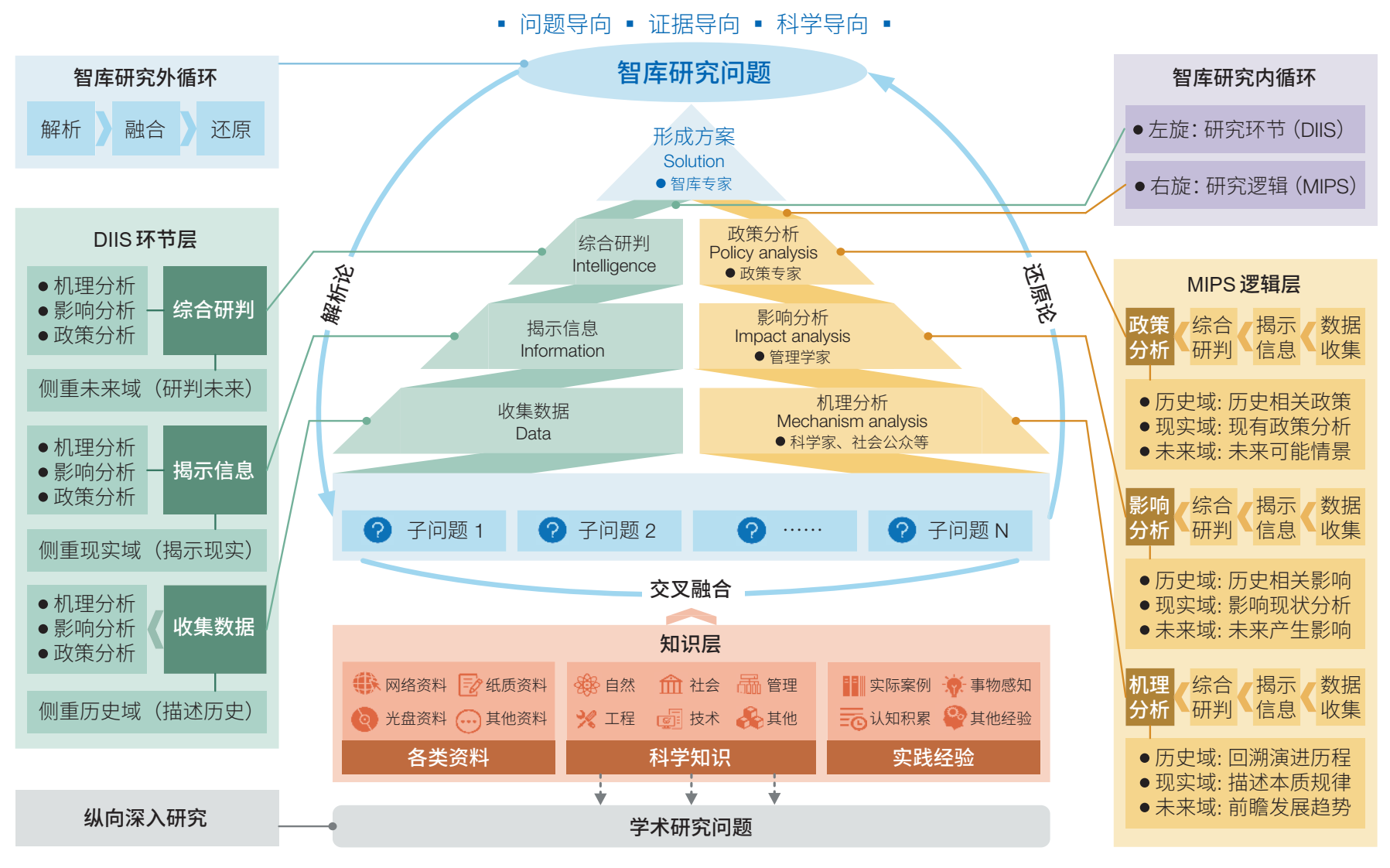 Double Helix Structure of Think Tank Research