Home >> Newsroom
Risks and Challenges of Global Climate Governance and Energy Finance
——2020 International Conference on Energy Finance
The COVID-19 pandemic in 2020 is having tremendous impact on global energy demand and brings new challenges to the governance of global climate change and the development of new energy technologies.
"Climate change has become a long-term risk, reflected in the market behavior and financial asset prices, and energy finance has become an emerging research field and international frontier," said professor ZHOU Peng, a distinguished young scholar of the National Natural Science Foundation of China (NSFC), in his opening remarks to the 2020 International Conference on Energy Finance held on Oct. 24-25.
The two-day conference drew over 400 experts and scholars from more than 70 universities in China, Germany, Ireland and Japan. This year's theme is "Global Climate Governance and Energy Finance: Opportunities and Challenges".
"the next research hotspots will be climate finance, carbon taxes, business behavior, finance and environmental regulation", added JI Qiang, an associate professor from the Institutes of Science and Development of Chinese Academy of Sciences (CASISD).
In the field of climate governance and energy finance, much research is focusing on the forecasting and trading strategies individually, but little attention has been paid on the integrated studies of both. Moreover, another obstacle is the lack of open access to some essential data and information on climate change, particularly on carbon emissions.
To fill the gap, WANG Shouyang, fellow of The Third World Academy of Sciences, proposed the latest research result of his group during his keynote speech, a new trading strategy model, which combines the trading strategy with forecasting model effectively and has a wide application in the future.
GUAN Dabo, a fellow of the United Kingdom's Academy of Social Sciences, also presented his research on building China's carbon accounting database, aiming to crack the monopoly of western countries on data of climate change.
Guan pointed out that the climate change in the post epidemic era would be challenged from three aspects: the impact of global epidemic control policies on the economy and industrial chain, the economic recovery and carbon dioxide emissions in the post epidemic era, and the future emissions of small countries.
The research journals on related fields have been playing important roles to encourage more scholars to engage in the debate and studies. "Chinese journals should expand their support for energy finance studies, open up more relevant columns on hot topics," said professor LI Jianping, the executive editor of Chinese Journal of Management Science.
The International Conference on Energy Finance was established in 2018, by JI Qiang and ZHANG Dayong, a professor of Southwestern University of Finance and Economics. So far, it has been the largest conference in the field of energy finance in China. This year, it received 186 papers on 22 topics, including climate and carbon finance, climate change economics, energy market systemic risk modelling, green technology innovation, green finance and investment, deep decarbonization.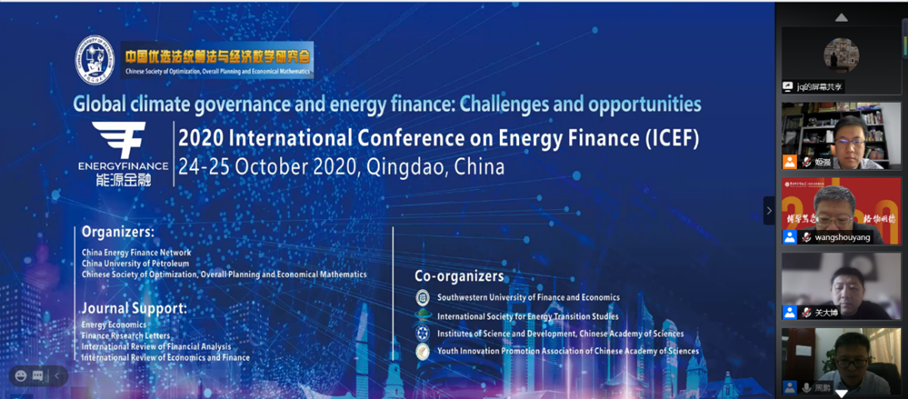 The online conference